Mahamudra Retreat
With Yangsi Rinpoche
November 10 - 17, 2023
We are so excited to announce this Mahamudra Retreat with Yangsi Rinpoche. During this retreat, Yangsi Rinpoche will help us to identify what is mind, what is the mind that is meditating. There will be Q&A sessions daily with Rinpoche and also a daily discussion group to help deepen our understanding of what is mind and how to identify the mind.
Mahamudra, the great seal, refers to systems of meditation on the nature of the mind.
"May all migrators quickly gain victory over the two obscurations by means of this path, as there is no other second gateway to the state of peace." – Panchen Losang Chogyi Gyaltsen
Mahamudra techniques have been transmitted through the Kagyu, Sakya, and Gelug schools of Tibetan Buddhism. In this course, we will be investigating the Gelug tradition of Mahamudra using the text: Highway of the Conquerors: The Mahamudra Root Text of the Precious Genden Oral Tradition by the First Panchen Lama Losang Chokyi Gyaltsen
The first step in the Mahamudra meditation is to recognize the mind. In our daily life, we usually focus on outer objects: the mind understands a cup, a table, sound, and smell. But it is difficult to recognize the mind itself, the mind that sees, hears, smells, tastes, feels, the mind that realizes its different objects. Therefore, in the Mahamudra meditation, the first step is to identify the mind itself. When we do identify the mind itself, we'll find the object of meditation, and then we have to practice in order to realize the emptiness of that object. As we continue to practice it, the mind will become subtler and subtler, till we reach the level of the subtlest mind, in which our mind will realize directly and correctly the emptiness itself (the subtlest mind will realize the emptiness of the subtlest mind).
The practice of Mahamudra is unique from the point of view that when the subtlest mind realizes the emptiness of itself – the realization and the object are of one taste, which means that the attained understanding of emptiness is a direct experiential realization, and is non-dual (subject and object are not separated). Only a very powerful realization like that will bring the elimination and uprooting of afflicted states of mind, and in this way will bring freedom from all dissatisfaction and suffering.
Further Reading:
His Holiness the Dalai Lama, The Gelug/Kagyu Tradition of Mahamudra
B. Alan Wallace, The Attention Revolution
9th Karmapa Wangchug Dorje, The Mahamudra Eliminating the Darkness of Ignorance
Thrangu Rinpoche, Crystal Clear – Practical Advice for Mahamudra Meditators
Traleg Kyabgon, Mind at Ease: Self-liberation Through Mahamudra Meditation
Retreat Information
This retreat will be In-Person and online via Zoom. Zoom links will be delivered a couple of days before the retreat starts. This is an intermediate-level retreat, for students who are familiar with the foundational philosophical principles of Buddhism and who have a regular meditation practice.
Schedule
Friday, November 10
4:00pm – 5:45pm Check in (overnight guests only)

5:45pm – 6:00pm Welcome talk in the Dining room (overnight guests only)

6:00pm – 7:00pm Dinner

7:00pm – 8:30pm Introductory Session 

November 11 – 16

8:00am – 9:00am Breakfast

9:00am – 10:30am: Session 1

11:00am – 12:30pm: Session 2

12:30pm – 2:00pm Lunch

2:00pm – 3:00pm: Discussion Group

4:30pm – 6:00pm: Q & A Session

6:00pm – 7:00pm Dinner

7:00pm – 8:30pm Session 3

Friday, November 17

8:00am – 9:00am Breakfast

9:00am – 10:30am: Session 1

11:30am – 12:30pm: Final Q & A

12:30pm – 1:30pm Lunch (End of Retreat)
Lodging and Meals
​​During the retreat, we provide various lodging options to accommodate different preferences. We have a variety of lodging available to make your stay comfortable. All of our lodging options include 3 delicious vegetarian meals a day. All meals are gluten-free and vegan adaptable. We will do our best to cater for additional requirements outside of this, please contact Rommy at [email protected] to communicate your specific requirements, as much notice as possible is greatly appreciated.
Room Options
Single: Ideal for those who need privacy, each room has an ensuite bathroom. Please note Single rooms are limited and book out quickly.
Double: Ideal for those who like to have a bit more privacy, but have the convenience of being close to everything at the main campus. Each double room has an ensuite bathroom.
Shared: If you prefer a more communal setting, we have shared dormitories available. These dormitories provide a cost-effective option for participants who enjoy the camaraderie and interaction with fellow retreat attendees. Each dorm has an ensuite bathroom.
Additional Nights
You are most welcome to add extra nights to your stay 2 days before and after the retreat starts. A 10% discount is offered on our standard room rate. Please note that only a continental breakfast is included in that price. You will need to arrange your own lunch and dinner before or after the retreat starts.
Commuters
Please note lunch is included in your program costs. Breakfast and Dinner are not included. If you would like to join the group for Breakfast and Dinner an additional charge of $245 for the whole retreat will need to be paid. You will need to confirm your attendance for both meals at least one week prior to the retreat starting.
How to Get Here
Access to LMB is via a small, winding road (Prescott Road) which we share with numerous neighbors. As you are driving to our property please turn on your headlights, go slowly, and be prepared to pull over to the side when you meet oncoming traffic.
Closest Airports:
The nearest airports to LMB are San Francisco (~1.5 hours away) and San Jose (~1 hour away). To reach LMB from either of these airports you can use a rideshare app (Uber, Lyft etc), or a shuttle service (Early Bird Airport Shuttle Service). Expect to pay $100 – $150 from San Francisco, or $60 – 80 from San Jose using a rideshare app. LMB is unable to offer assistance in helping you get to or from the center. Please make your own arrangements.
Cancellation Policy
Overnight Guests:
If you cancel more than 2 weeks in advance a full refund will be offered. If you cancel up to two weeks prior to the retreat starting a 50% refund will be offered. If you cancel up to 1 week prior to the retreat starting no refund will be offered.
Commuters
If you cancel 1 week prior to the retreat starting a 50% refund will be offered.
Zoom Participants
A full refund will be offered up to the day the retreat starts.
No refunds will be offered once the retreat has started for any participant. A $50 administrative charge will be applied to all refunds required to be processed. 
Leader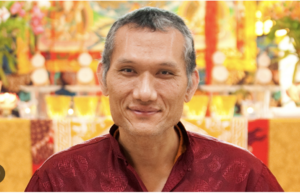 Yangsi Rinpoche
Yangsi Rinpoche was recognized as the reincarnation of Geshe Ngawang Gendun, a renowned scholar and practitioner from Western Tibet, at the age of six. Rinpoche trained in the traditional monastic system for over 25 years, and practiced as a monk until the age of 35. In 1995 he graduated with the…
Learn more about Yangsi Rinpoche