Commentary on the Seven-Point Mind Training
With Geshe Ngawang Dakpa and Venerable Steve Carlier
October 7, 2023
**Presented via Zoom. Registration required.
"First Saturdays Teachings with Geshe Ngawang Dakpa"
Check the Schedule as some Saturdays will be omitted
​​Join Land of Medicine Buddha, in collaboration with Tse Chen Ling, as their longtime resident teacher, Geshe Ngawang Dakpa, shares his wisdom and insight on a series of topics beneficial to our minds and our practice. Geshe-la will choose topics as the series progresses, and they'll be posted here and announced in our eNews and social media. We're grateful to have a scholar of Geshe Dakpa's renown offer these teachings to our community! ​
Ven. Stephen Carlier will provide English interpretation of Geshe Dakpa's teachings, and class will be hosted by Stephen Butler.
Registration
Advanced registration is required – please make sure to register for each session you'd like to attend on a class-by-class basis. Once you register, the Zoom link will be included on your registration ticket/receipt.
Commentary on Seven-Point Mind Training
Join us as Geshe Ngawang Dakpa will provide a commentary on the Seven-Point Mind Training, compiled by and attributed to Geshe Chekawa Yeshe Dorje (འཆད་ཁ་བ་ཡེ་ཤེས་རྡོ་རྗེ།, b.1101 – d.1175). Seven-Point Mind Training is one of the core texts of the lo-jong ("mind-training") tradition, "…a specific approach to cultivating the awakened mind. That approach entails a disciplined process for radically transforming our thoughts and prejudices from natural self-centeredness to other-centered altruism." (from Thupten Jinpa, Mind Training; The Great Collection.) Geshe-la will be giving his commentary on the basis of the Pabongka Dechen Nyingpo's (ཕ་བོང་ཁ ༠༢ བདེ་ཆེན་སྙིང་པོ།, b.1878 – d.1941) edition of the root text.
As with previous dates in this series, Geshe-la will move through the text slowly, using as many dates of the class as needed to complete the text.
Confirmed dates for the series:
May 6
June 3
August 5
September 2
September 16
October 7
Leaders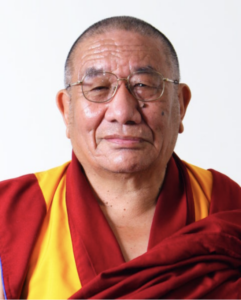 Geshe Ngawang Dakpa
Geshe Ngawang Dakpa serves as a resident teacher at Tse Chen Ling. He was born in Nakchu, northeast of Lhasa, Tibet and became a monk at the age of ten. At the local monastery of Othok he studied both Dharma and secular subjects extensively before entering Sera Je Monastery eleven…
Learn more about Geshe Ngawang Dakpa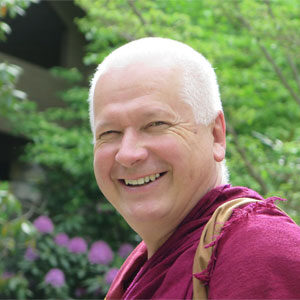 Venerable Steve Carlier
Ven Steve Carlier currently resides at Land of Medicine Buddha, teaching the Basic Program. He has been studying Buddhism since 1977 and was ordained as a Buddhist monk by Lama Zopa in 1979, then receiving full ordination from Serkong Tsenshab Rinpoche the following year. He studied for eleven years at…
Learn more about Venerable Steve Carlier