Karma Continued Lam Rim Series
With Venerable Steve Carlier
September 28 - October 19, 2023
"Every single action performed by body, speech, or mind eventually produces a specific reaction. For example, an unwholesome attitude will definitely culminate in problems and suffering, while a wholesome, clean-clear mind always brings happiness."
"Understanding the karmic connection between causes and effects will give us the energy to change ourselves."
Lama Yeshe, LYWA
About the Series
Due to the extensive nature of the topic of Karma, Venerable Steve will be continuing the previous Karma series by adding an additional 4 weeks. Venerable Steve will be using The Middle Length Stage of the Path to Awakening by Lama Tsongkhapa as the core text for this continued series. This text is used for studying the stage of the path on the Basic Program. It offers detailed explanations of various Buddhist concepts. Venerable Steve will also draw upon passages from the Lam Rim Chenmo by Lama Tsongkapa.
Practicalities of the series
All are welcome to attend this class. This series will be online only via Zoom. Recordings will be available if you are unable to make all the classes. Please note due to the SPC being away Michael Burdick ([email protected]) will be the point of contact for this series. Please reach out to Michael if you have any questions. 
Dates:
September 28

October 5

October 12

October 19
Zoom room etiquette:
We request that you engage with the Zoom room as if it were an actual Gompa. When possible please leave your cameras on so that we can create a virtual community. If you're having technical difficulties or unable to that is okay.
*Please note, due to the open-ended and flexible nature of this class, attendance of these sessions does not count towards a completion card for the FPMT Basic Program.
Leader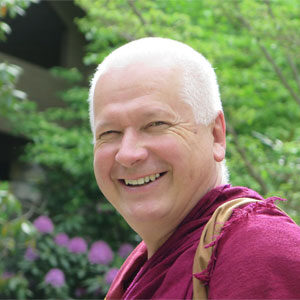 Venerable Steve Carlier
Ven Steve Carlier currently resides at Land of Medicine Buddha, teaching the Basic Program. He has been studying Buddhism since 1977 and was ordained as a Buddhist monk by Lama Zopa in 1979, then receiving full ordination from Serkong Tsenshab Rinpoche the following year. He studied for eleven years at…
Learn more about Venerable Steve Carlier