Evening Teachings with Tsenshab Serkong Rinpoche II
With Serkong Tsenshab Rinpoche
September 4 - 9, 2023
These topics are subject to change. Rinpoche will teach on what he feels will be most beneficial. This series is being taught as a package rather than stand-alone teaching. The Registration option will be for the entire series. All teachings will be recorded so if you can't attend one of the nights a recording will be available.
This event is hybrid you can attend virtually via Zoom or in person.
Time: 7:00 – 8:30 pm
Monday 4: History of the Medicine Buddha Sutra. Benefits and meaning of the mantra
Tuesday 5: How to generate Bodhichitta
Wednesday 6: Benefits of Tong Len. Learn how to practice as a way to develop bodhicitta
Thursday 7: Emptiness in the 4 schools
Friday 8: Lama Chopa Puja
Saturday 9: Theories of Mind in the 4 Schools
The Zoom link will be the same for each teaching. If you are unable to attend all the sessions, recordings will be available to those who have registered. We will do our best to get them to you as soon as possible. Please be patient.
If you registered using the Medicine Buddha Retreat event page you will receive the Zoom links via email. You don't need to register again.
THE KINDNESS OF DONATIONS 
If you find this event helpful, please do consider making a donation. Generosity was one of the first positive attitudes that the Buddha emphasized in his teachings. Generosity creates a healthy flow of Dharma in your life and is the cause of your own prosperity. Your donations help us offer Buddhist teachings and meditation retreats to the world, a path that can lead people out of suffering to ultimate happiness.
Suggested donations are listed in the registration section at the bottom of this page.
ALL ORDAINED MONASTICS ARE OFFERED THESE TEACHINGS FREE OF CHARGE. NO ONE IS TURNED AWAY FROM RECEIVING A DHARMA TEACHING DUE TO LACK OF FUNDS. TO INQUIRE ABOUT ACCESS TO THE TEACHINGS FREE OF CHARGE, PLEASE CONTACT: [email protected]
Gift of Dharma – Benefactor
Help sponsor this event. This is an excellent way to generate a lot of merit if you are unable to attend the retreat in person or via zoom. Benefactors will receive special prayers and dedications during the retreat–for your long life, purification, and removal of hindrances.
Diamond level: $500
Gold level: $250
Silver level $108
Bronze level: Any amount 🙂
Leader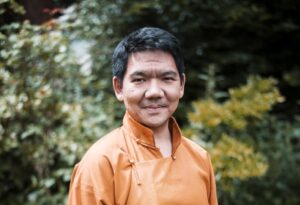 Serkong Tsenshab Rinpoche
At the age of two, Tsenshab Serkong Rinpoche II (1984 – present) pointed to the photo of the recently deceased Assistant Tutor of the 14th Dalai Lama and said, "That's me!" Recognized as the reincarnation of the former Tsenshab Serkong Rinpoche, the young tulku received his Buddhist training initially at…
Learn more about Serkong Tsenshab Rinpoche