Kunrig Sadhana Practice
With Venerable Steve Carlier
September 20, 2023
*This practice will be held online via zoom*
Kunrig (Skt. Sarvavid) is a Yoga Tantra deity. He is known as "the King of Deities for purifying the lower realms." Even if someone has already been born in the lower realms, if you do Kunrig practice or puja, they will be liberated from the lower realms. There is a story that when a deva died and was born in one of the hell realms, King Indra didn't know what to do, so he asked Buddha for help. Buddha then manifested as this deity Kunrig and conferred the practice of the Kunrig jangwa. The deva was then liberated from the lower realms.
We will be using the short sadhana by Ngulchu Dharmabhadra and supplemented by Jhado Rinpoche. There are a few mudras in the short sadhana. We will review how to perform them as we go through the sadhana.
Who can attend this online practice session?
Currently doing the Six Session Guru Yoga practice daily.
Have taken the Kunrig Empowerment
Registration
Please register your participation below.
We welcome donations to help support Land of Medicine Buddha's Dharma program.
If you are not to make your donation by PayPal, please use this link here for Debit/Credit Card.
Please fill in "Kunrig Practice" under the field: "I dedicate this donation to"
Leader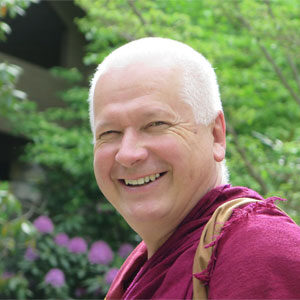 Venerable Steve Carlier
Ven Steve Carlier currently resides at Land of Medicine Buddha, teaching the Basic Program. He has been studying Buddhism since 1977 and was ordained as a Buddhist monk by Lama Zopa in 1979, then receiving full ordination from Serkong Tsenshab Rinpoche the following year. He studied for eleven years at…
Learn more about Venerable Steve Carlier