DB13: Introduction to Tantra
With Venerable Tenzin Namjong
August 15 - September 19, 2023
Venerable Tenzin Namjong will be teaching Module 13 Discovering Buddhism, Introduction to Tantra beginning Tuesday, August 15th. At 7:00pm Pacific Daylight Time. This module will be offered in cooperation with our sister center, Ocean of Compassion.
In this module, you will learn what tantra is, how it works, and why it is a powerful form of practice.  Get a broad overview of the four classes of tantra and learn to practice simple Kriya tantric methods.  Learn how to integrate tantra with lamrim meditation to obtain the best results.
While having completed the previous modules in the Discovering Buddhism series is not a prerequisite to attending this one, it is helpful.  Students should have at least a basic understanding of the Lamrim teachings in order to get the most out of this module.
Recordings will be available if you are unable to attend one of the classes.
Leader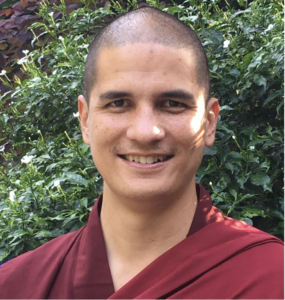 Venerable Tenzin Namjong
Born and raised in Hawaii, Venerable Tenzin Namjong studied and trained in Zen and Theravada Buddhist traditions before embracing the Tibetan Buddhist tradition, due mainly to the kindness of His Holiness the Dalai Lama and Lama Zopa Rinpoche. He holds a B.A. in Philosophy from Princeton University and has been part of the…
Learn more about Venerable Tenzin Namjong